shows














contact
past shows
2015

27-11 Gent w/ Sigtryggur Berg Sigmarsson

crapwave tour with de ryckes
4-7 occii, amsterdam
3-7 de gym, groningen

26-6 het bos, antwerpen w/ de ryckes, shetahr, joe speedboat

2-5 derde wal, nijmegen w/ zea

12-4 les atelier claus, bruxelles w/ èlg & cam deas, vespre

5-4 strasbourg, secret location

4-4 73 rue des haies, paris w/ les hopitaux , clara de asis, discombobulatrix, bed dateries

2-4 le sud, rotterdam w/ sindre bjerga, frans de waard



2014

Aus NZ tour

12-10 the tote, melbourne

11-10 pyramid club, wellington, NZ

10-10 audio foundation, auckland, NZ w/ magic mountain, diamant hoops, ducklingmonster (visual artisan)

6-10 the haunt, brisbane w/ bent, wd forday + bag lady, rob journeaux cancelled

5-10 the slab, brisbane w/ $low, Enderie Nuatal

4-10 the newcastle weekender, terrace bar, newcastle w/ repairs, unity floors and more

3-10 valve bar, agincourt hotel, sydney w/ red red krovvy, housewive and more

30-9 make it up club, melbourne w/ noel meek & olivia webb and more

27-9 liquid architecture festival, the tote, melbourne w/ Ib M Theft Adle, johannes kreidler, cured pink and more

----

7-9 the island festival, bristol

6-9 west hill hall, brighton w/ sick llama and more

5-9 power lunches, london w/ sick llama and more

4-9 nest bxl, brussels w/, joe speedboat

3-9 roodkapje, rotterdam w/ cathy heyden + rogier smal duo, pauwel de buck

6-6 patronaat, haarlem w/ floris bates, hunter complex

10-5 acu, utrecht

1-3 kraak festival, aalst

27-2 occii, amsterdam w/ maan, putas bebadas

7-2 de nieuwe anita, amsterdam w/ spoelstra

20-1 sub 071, leiden w/ control unit, new age kids

19-1 worm, rotterdam w/ control unit, desmadrados soldados de ventura

18-1 gallery sign, eurosonic day party, groningen


2013
1-11 koffie5euro, rotterdam w/ stardoom, self indulgent asshole

31-10 cul de sac, incubated, tilburg

21-9 kunstencentrum belgie, hasselt w/sky needle, mad nanna

20-9 occii, amsterdam w/ sky needle, mad nanna

--
UK TOUR
12-9 the audacious art experiment, sheffield w/ sky needle, mad nanna

13-9 cowley club, brighton w/ sky needle, mad nanna, dylan nyoukis, pheromoans, men oh pause

14-9 dulcimer, manchester w/ sky needle, mad nanna

15-9 wharf chambers, leeds
--

17-8 roodkapje, rotterdam w/ ignatz & de stervende honden, draalaal, beyt al tapes, the julie mittens

27-7 vera kelderbar, groningen w/ modern witch, hun bed, dj street fighter, dj vakantie

25-5 frauduleus, rotterdam
w/ bruno ferro xavier da silva

16-3 extrapool, nijmegen
w/ markus stein (DE), elia brometti (DE)

9-2 le sud, rotterdam
w/ jonas ohlsson, ieke trinks, self indulgent asshole

2012
15-11 roodkapje, rotterdam
w/ wevie stonder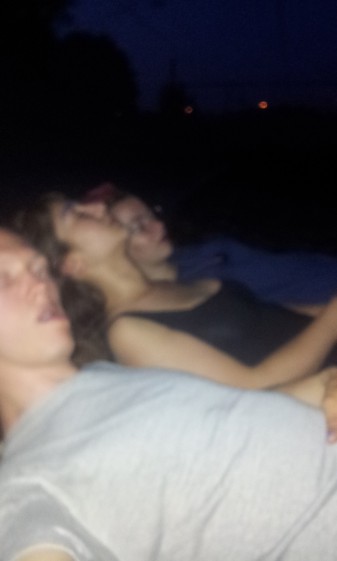 fast cummers tape is sold out!
last copies available at:
infinite limits (uk)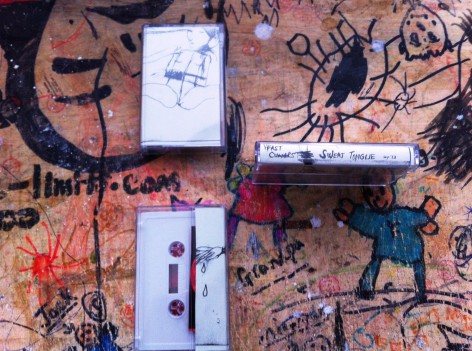 soundcloud
youtube
facebook
New tape out now! Available via sweat.tongue gmail.
Watermelon only available at :
Albert's Basement
Wormshop
Infinite Limits (sold out)
(sold out at source)
New track from our UK tour only cassette, Gregarious Pelt. Get your last copies at Infinite-Limits who scored them at the Bristol show. Also with many thanks to Gijs Deddens for the cover. Click here or here.
Ushering the Aus/NZ tour with a new tape: Skene's Gland. Get it with us or stay up to date for other distributers. Cover made by our home friendly artist Gijs Deddens. Also check out the Aus/NZ tour poster.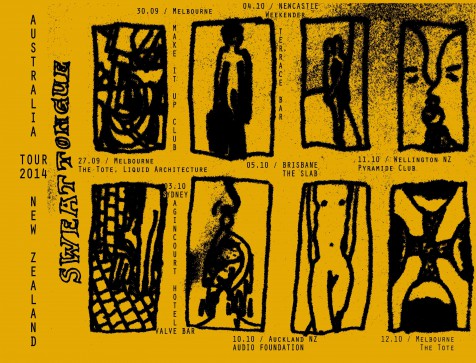 cold milk
seen, but not forgotten: a review of skene's gland on cassette gods [click]